9 Unique Ways to Stand Out in the Photo Booth Industry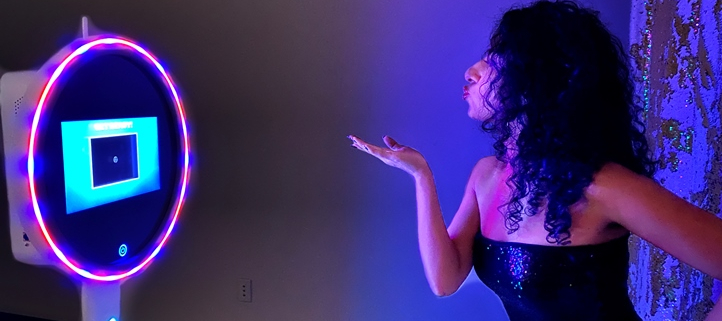 The photo booth industry can be extremely profitable. After all, once you have the equipment on hand, the running costs of your business are simply labor and marketing.
That's why it's important to do what you can to make your photo booth business stand out against the rest. Read on to learn more about unique photo booth ideas along with tips and tricks for differentiating your venture. 
Improve Your Photo Booth Business
From unique photo booth props to having the proper lighting and backdrops, here are a handful of helpful photo booth business tips.
1. Utilize Technology
When you start a photo booth business, technology will be your best friend. Gone are the days of guests capturing moments with just a DSLR camera. Your customers want a one-of-a-kind, seamless experience the right photo booth software can create. 
For instance, the magic mirror photo booth offers a touch mirror surface that will get the attention you are looking for. It truly is a full-length mirror photo booth with cutting-edge technology your customers can use to personalize their photo booth experience.
The added features technology provides allows your business to stand out from the average photo booth app.
2. Customize Photo Booth Setups
With many types of photo booths to choose from, it's important to find one that's versatile for different target markets. It's a good idea to invest in a portable photo booth that you can easily take to events and personalize the set up for.
Along with tailoring different hashtags to events, you should also consider offering different props, backdrops, and more to create a truly personalized experience for your customers.
3. Offer Unique Props
Speaking of props, to make your business further stand out it's important to offer a variety of fun things for your guests to hold. This can include everything from personalized signs, fun wigs, and hats, or even DIY photo booth props that guests can personalize themselves with chalk.
Try some of these popular photo booth props if you don't know where to start.
4. Target Different Events
One of the most important photo booth tips involves expanding your target audience. While there's nothing wrong with finding a niche, you can grow your business by appealing to different demographics.
For instance, you may want to partner with wedding planners during peak season to offer a unique wedding photo booth experience. However, during other times of the year you can also attend corporate events, birthday parties, and other celebrations. By catering to multiple events, you can stand out from other photo booth businesses that may only cover specific occasions. 
5. Choose the Right Lighting
Lighting is everything when it comes to capturing the perfect moment in a photograph. However, not every photo booth business owner realizes this.
It's important to have a photo booth along with the right lighting at every event. Luckily, you can find everything from inexpensive photo booth lighting to more upscale models like this photo booth with an all-inclusive ring light. With something for every budget, there's no excuse to not have the perfect lighting as your customers strike a pose.
6. Create Memories For Customers
When you start a photo booth business, your mission is to create lasting memories for your customers in the form of physical photographs. While digital photos are nice and are great for sharing on social media, many customers still value having a physical copy of their pictures on hand.
Offering instant printing can differentiate your service from others. Luckily, you can find a photo booth with a camera and printer readily available. The Fusion Photo Booth includes a ring flash and DNP professional printer with 700 prints to start.
7. Get Creative With Backdrops
Backdrops are another great investment for your venture, and we're not just talking about green screens. A photo booth backdrop can range from anything from trendy, like topiary or faux flower walls, to branded with company logos for corporate events.
When starting your business, it's best to create a backdrop that's versatile enough to be used for different events. As your business grows, you will likely understand which backdrops appeal to your customers the most.
8. Try Different Photo Booths
Photo booths are a great business opportunity because you can truly find your niche or cast a wide net. While you can offer a standard photo booth experience for customers, you can also ensure your service stands out with one-of-a-kind photo opportunities.
If you have experience in the industry and have a good understanding of operating photo booths, you can offer trendy experiences like a 360 Photo Booth. Capitalize on social media trends and provide customers with the type of photo or video they crave.
9. Market Yourself
Finally, we can't emphasize enough the importance of marketing your photo booth business. Making connections and getting your name out there is essential for growing your venture and booking repeat customers.
Showcase your business on social media by giving potential customers a taste of the experience you can provide. Answer questions about the technology used and upload examples of pictures with permission from customers.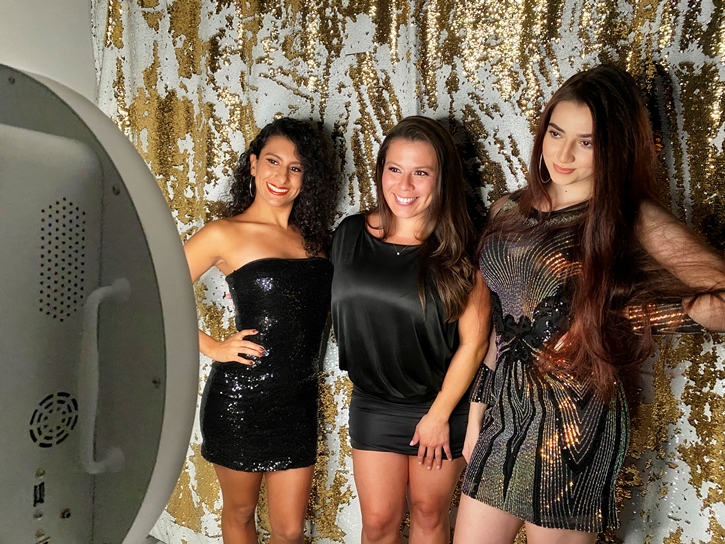 Start Your Business With Photo Booth Int.
Are you ready to start your business capturing fun moments with high-quality photo booths? Let Photo Booth International help.
We take pride in helping entrepreneurs start a business with our selection of cutting edge photo booths and world class customer service. There's never been a better time to start a photo booth venture. The demand for this service is huge, and there are very few barriers to entry to begin taking control of your destiny.
Browse our selection of high-quality and one-of-a-kind photo booths today to get started on making your business dreams a reality.