9 Photo Booth Props to Bring to Your Party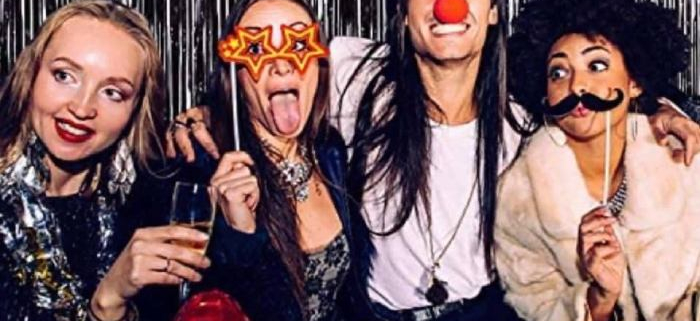 Ready to take your photo booth to the next level? Investing in the right photo booth props is a great way to gain more business, make your brand stand out, and, of course, ensure guests have fun.
Of course, not all photo booth props are created equal. Read on to learn more about what to look for in these additions and where you can find popular photo booth props for sale.
Best Qualities in Photo Booth Props
When you're on the lookout for photo booth props for sale, it's important to spend your money wisely. Here are some qualities to look for when purchasing props for the perfect photo:
Quality
It can be tempting to purchase photo props in bulk, but you should always consider quality over quantity. You want to get the most use of your photo booth props in the long run, so you may want to invest in higher-quality signs that will last you many events.
Size
You should always look for photo booth prop signs that are not too big and not too small. You want to ensure that your prop signs can be read without taking up too much space. You might want to offer props of different sizes and experiment with which works best for different types of photo booths.
Versatility
Versatile party props help you get the most bang for your buck. For instance, you can find fun props for a wedding party that could also be used for a birthday or holiday event. While you might want to have event-specific props, having a more versatile selection can also help your business.
9 Popular Photo Booth Props
Here are a handful of photo booth prop ideas that can make your next event stand out. From unique selfie props to popular photo booth props for weddings, let this list inspire you!
1. Custom Signs
You can never go wrong with signs for your photo booth. Custom or event-specific signs make great photo booth props for birthdays, weddings, and more.
You can even find props that match or complement wedding decorations. For example, if the wedding colors are rose gold, you can bring wedding signs and props in this metallic hue to fit the theme. This makes for party photos that are both fun yet cohesive.
There are a wide variety of photo booth prop signs available, so you're sure to find a set that appeals to a range of customers and events.
2. Personalized Backdrop
A photo booth backdrop should be a staple in your photo booth setup. Depending on the event, you might want to invest in something simple so as to not distract from the guests or other props.
However, you can also get creative with sparkly, shimmering, or even three-dimensional backdrops such as ivy walls. These are great ways to add some more personalization to your wedding photo booth or carry through with a certain theme (i.e. a garden party).
3. Confetti or Balloons
Adding more movement to your photos is easy with props like confetti or balloons. These unique additions are fun for guests of all ages and to capture candid moments of delight. Of course, with confetti, you have to keep cleaning up in mind. While this prop is fun, it can be messy and isn't reusable.
4. Paper Flowers
People can't get enough of paper flowers recently. From flower crowns and garden backdrops to larger-than-life paper flowers, these props are the perfect combination of beautiful and whimsical for any occasion.
Get inspired by an event's color scheme or the birthday girl's favorite florals to find the perfect flower props that will make the party photos pop.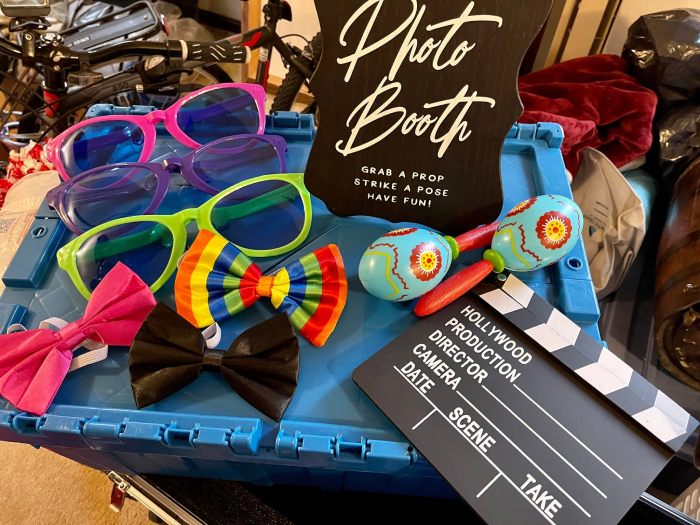 5. Social Media-Inspired
Hashtags are an easy way for guests to find and share their pictures from an event, plus it can give your business more exposure. Make sure to bring plenty of social-media-inspired props to your next event to encourage sharing on popular platforms.
These props can include everything from fun, general hashtag signs to more specific signs, shades, and more with custom hashtags on them.
6. Glittered Goodies
There's a reason sparkly props have been around since photo booths became popular. Glitter and sparkles are like a neutral (since they are often one color) while still adding a little extra something.
You can find many different kinds of sparkly props, from signs, sunglasses, masks, hats, and more that all create a classic, fun, and cohesive look.
7. Write-On Signs
No DIY photo booth is complete without write-on signs. From chalkboard and whiteboard signs, to more creative picture frames or digital displays, these props are some of the best ways to further personalize the photo booth experience.
Guests can write funny or heartfelt messages, it's truly up to their preference or the theme of the event. The photos are sure to be treasured by guests, family members, and newlyweds for years to come.
8. Picture Frames
A picture frame within a photo booth is a fun and simple play on a selfie prop. Custom picture frames give photo-takers something to hold and can be personalized with different decor, patterns, and text for unique events.
For instance, you can include the custom wedding hashtag on a picture frame for the wedding party. Or, include a graduation year and school colors for a graduation photo booth moment.
9. Music-Themed
Themes props are ideal for expanding your collection and appealing to a wide range of guests and events. Music themes props, like blow-up or cut-out instruments, cool shades, and hats can inspire guests to be silly and feed off the prop's energy.
Keep in mind the holiday or event and tailor your theme's props to the occasion or your client's passions. This can make the experience that much more fun and personal for everyone involved.
Other themed props can include nautical, bohemian, sports, emojis, and glitz and glamor just to name a few.
Purchase photo booth props that complement your photo booth business today!