What You Should Know About Starting A Photo Booth Business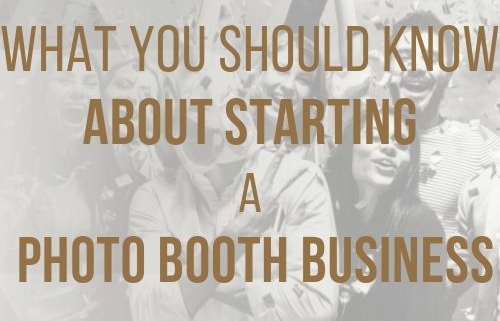 Are you thinking about starting a photo booth business?  Here is what you should know.
Things that you will want to think about when starting a business.
If you are here, then the chances are that you have been considering starting a portable photo booth business.  If you are still trying to figure out what the best path forward is, you have come to the right place.  In this article you will learn the different elements you need to know when considering starting a photo booth business.
Each and every day, there are countless events across the country and in your own neighborhood. People constantly need entertainment for every aspect of their lives, from weddings to birthdays. It's one thing that will always be needed from now until the end of time. People have always wanted to have a good time, and to make great memories. It's those memories that both kids and adults will cherish for years to come, so when it comes down to saving those memories, the best way to do so lies in one thing that's been around for over a hundred years.
To be clear, the photo both industry is currently booming.  It is expanding so rapidly, even people with no business experience are finding a ton of success in the industry.  It is our opinion that there currently isn't as good as an opportunity to start a small business than starting a photo booth business.
We offer financing options for new business owners with our in house financing program.  Apply and Start Your Business Today!
What are some reasons to make the commitment to starting a photo booth business?
It is fun, fulfilling, and can make you enough money to upgrade your lifestyle and enjoy the freedom of quitting your job.
Think about what it would mean for your life if you could double your income and quit your job.  Imagine having the freedom to set your own hours, and make your own rules.  Does it sound like a fantasy?  It can become your reality.  I wouldn't say it if it wasn't true.  At Photo Booth International, we have been helping new entrepreneurs to start businesses and find success for years, and have helped thousands of people to succeed already.
Have more fun, freedom, time, and money with a portable photo booth business!
They say a picture is worth a thousand words, but so is the potential to see such figures when you start your own photo booth business. People love to share their thoughts and memories with others. In the end, it will be the pictures they take that will be their reminder that anything ever happened at all. That's why it's important now more than ever to realize the potential you have at not only creating a business out of such a need, but also to be that one person that they remember more than the caterer or the person organizing the event. YOU are the one thing that will bring true joy and happiness to the guests at your event. A wedding may be for the bride and groom, but the guests will be talking about YOU for weeks to come.
So now that you know where the potential lies, how can you make your newfound insight into something profitable? That is where Photo Booth International comes in.  With years of experience building the industries hottest booths, and training people how to use them to make money, we have developed what we like to call a turn-key business.  Also known as a business in a box that you can start right away!  We have been able to provide unparalleled service and support that has helped many in achieving their lifelong goals and given them one thing that they can't get from a regular job.
Check Out our PBI Photo Booths Booths For Sale Here
Do you want to step into the lifestyle a photo booth business can provide?
It isn't for everyone.  Not everyone wants the independence that running your own business gives you.  They would rather have a boss telling them what to do.  If you are here though, chances are you aren't one of them.  You want to be in charge of your own destiny, and design your own lifestyle.  Want to travel more?  Want a bigger house?  What kind of lifestyle would you design?
Here, you're the boss. You set up your own hours and how you want to run things. We can provide you with the tools and the training on how to make yourself potentially earn thousands a week, but it's ultimately your decision. Keep in mind that running a business (whether it be with a photo booth or otherwise) is not for everyone. Not everyone has the drive or focus to follow things through. Not everyone has the patience to understand that success doesn't happen overnight. This is why with our help, we can get you going from zero to hero in a matter of weeks, offering your newfound services to your community in the competitive photo booth industry. If you can invest even half the time you put into working your normal job, you can see returns for your hard-earned efforts.
For those wanting to break the shackles and monotony of the nine-to-five job.  We can help to break those chains.  PBI offers not only industry leading photo booths for sale.  It also provides the skills to help start your new portable photo booth business. There's no gimmicks or half-promised ideals. Just a passion to help others succeed where we have done the same. Stop watching opportunity pass you by. It's here today, knocking for you.
Have you decided to start your photo booth business yet?
In this article, we have hopefully given you all of the considerations when starting your own photo booth business.  If you are ready to make the commitment, we offer financing options for new business owners so you can get started today.
Want to know about Hand Sanitizer Station?