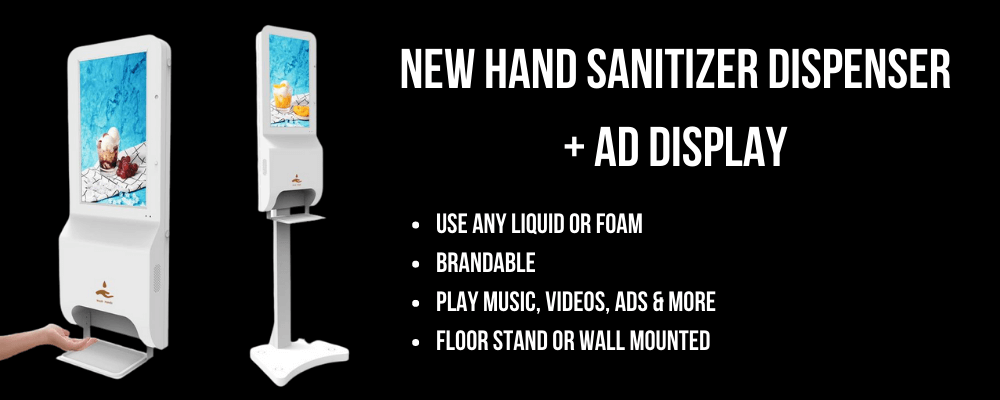 The #1 Touch-Free Hand Sanitizer Station Ad Display
We Provide Hand Sanitizer Station With Ad Displays for Companies and Businesses.
Make It Easy For Your Clients to Sanitize
Are you looking for a better way to sensitize your clients to sanitize their hands? Choose a hand sanitizer station with an ad display for an easy and quick way to disinfect. It is suitable for all places, including business, company, workplace, or even common areas. Place the hand sanitizing station stand in a strategic place that will be visible to all the clients. Achieve an infection-free area with a perfect advertising hand sanitizer station.
Let us help your clients sanitize with ease!
Call Us Today: 855-474-6868 Or Get a Quote Or Live Chat With Us.
Why this Unique Hand Sanitizer Advertising Station is a Smart Investment
People worldwide have become more conscious about the benefits of proper hand sanitizing and why it is crucial to stay safe and healthy. Many individuals no longer leave their homes without some form of hand sanitizer, whether it be a spray bottle or a small, purse-sized squeezable bottle. By investing in this hand sanitizer display, you make it quick and convenient for your clients to disinfect and sanitize their hands whenever they need to.
Here are a few reasons why this hand sanitizer advertising station will benefit you and your business:
With a hands-free sanitizing station, you are providing your clients with a much-needed sense of safety. With everyone becoming more aware of germs and illnesses, they are more likely to avoid going places unless they know they will be in a safe, healthy environment. This station allows you to provide them with a safety net they can use when they feel like sanitizing their hands, belongings, or anything they plan to touch.
Hand sanitizer is not cheap, and in some cases, it can be hard to find. By providing this sanitizing option for your clients, you will gain their appreciation—customers like when they feel valued. By placing one of these easy-to-use hand sanitizer displays for their free use, you are showing your clients that you care about their wellbeing. In return, they will be more likely to support you and your business.
With its ad display, this sanitizing station is a unique way to advertise yourself and input specific information that you think others should read. It also provides you a way to advertise without having to promote yourself in-person actively. Your display will just run automatically throughout the event.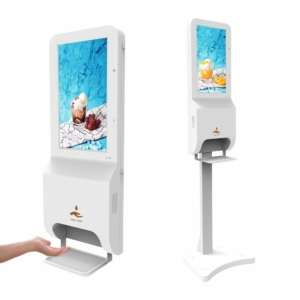 Benefits of Hand Sanitizer Station Ad Display
Hand Sanitizer Station Z1 by PBI (Photo Booth International) is one of the best commercial hand sanitizer stations that you can get. Get yourself a touch-free hand sanitizer dispenser. It offers a variety of benefits which will include the following:
Works excellent with retail locations as can be placed in different ways. You can use the touch-free hand sanitizing station stand or wall mounting options to place at strategic places in your business.
It comes with an HD 15 inch Monitor – Android Computer that will make it easily visible for most people. Get clear ads that will make your clients understand the need for sanitizing and other related information about the business.
Use your own liquid or foam as it offers flexible usability. Reduce the cost of sanitizing your clients by using affordable foam and liquid.
It offers an easy setup procedure as all you need to do is to mount it or put it on the floor. Add your foam or liquid to let your clients sanitize.
Get a hand sanitizer dispenser station that allows you to show ads/videos on the screen for better advertisement.
It comes in a suitable size of 60 inches high and 20 inches wide to provide easy access to all clients.
Our Process
Contact us through our site, where you will fill some details online to get your quote. Provide us with your name, email address, and cell phone and our team will get back to you with the estimate. We will provide you with the latest prices and discounts on your purchase. Your First Choice for Hand Sanitizer Station Ad Display
Photo Booth International has provided Purell hand sanitizer stand dispenser stations to over 1000 entrepreneurs. We also offer training for our products to business owners so that they can realize its benefits.
Some businesses may want to do some hand sanitizer advertising, which we make possible through the station ad display. We provide lifetime tech support for our products for better customer satisfaction. Be on the same journey with other people like you through our Facebook Community. Rely on us for the best touch-free hand sanitizing station stand.

Our website provides the exact amount you will pay for the hand sanitizer stand. Get in touch with us to get the right pricing and discounts by calling or filling the form on our website. We deliver the product worldwide, which will also determine the overall cost of the product. We are your go-to company for commercial hand sanitizer stations.
Our Guarantee
We provide unlimited lifetime tech support that will give you a100% satisfaction guarantee.
Get Your Hand Sanitizer Station Ad Display Today
We are your one-stop-shop for quality hand sanitizer stand and advertising display.
Contact us today to start the purchase process.
Call: 855-474-6868
Bulk Pricing Available.
Text: 972-301-2930
Branded Hand Sanitizer Station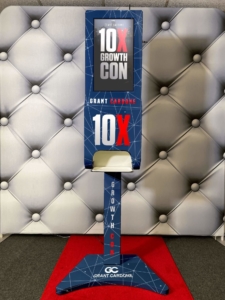 .     
(Concepts Only Trademarks Belong To Respective Owners)
NEW Hand Sanitizer Station MINI (FREE Branding) On Sale Now $499