Best Photo Booths of 2023

Whether you hope to start your own photo booth business or want to utilize interactive technology as an extension of your services, a photo booth is a great investment.
Of course, not all photo booths are created equal. Today's customers don't want a bulky machine at their event (and neither do you!) and they definitely don't desire grainy photo strips.
Luckily, modern photo booths are sleek, high-tech, and easy to use to capture high-quality photos, videos, GIFs and more. Read on for some of the best photo booths to buy this year to kickstart your business.
Are Photo Booths a Good Investment?
First things first, if you're wondering if a photo booth is a good investment in 2023 the answer is a resounding yes!
While it's easier than ever for party goers to snap pictures on their phone, the age of social media has actually made photo booths more popular than ever. According to Fashion Week Daily, many people love the fun, interactive element to stepping in front of a photo booth at an event that snapping a picture can't achieve.
Photo booths are still incredibly popular at events like weddings, corporate conferences, birthdays, event promotions and more. People will always love showing off when they're at cool events with a high-quality image or video they can share on social media.
Not only will photo booths remain popular, but it's also a growing industry. Research from a recent Photo Booth Market Report found that the Global Photo Booth Market Size was estimated at USD 422.00 million in 2021 and is projected to reach USD 909.83 million by 2028.
There is plenty of opportunity to get started in the photo booth business and make your offerings stand out by offering unique photo booth experiences.
Best Photo Booths to Buy This Year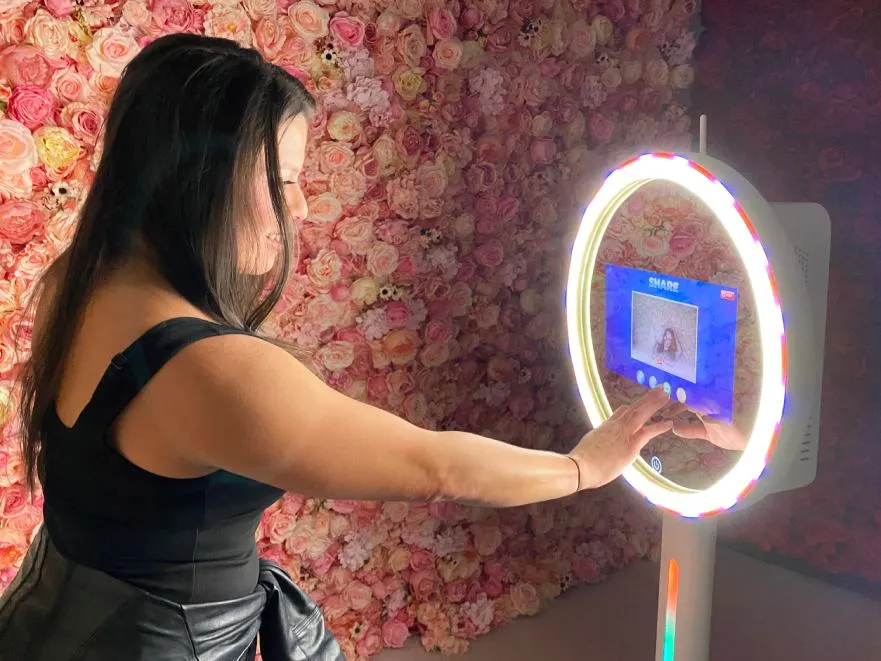 There are hundreds of types of photo booths to choose from today. From simple booths and open air offerings to premier photo booths, the best photo booth for you is truly up to your budget, experience, and the expectations of your clients.
However, there are a handful of photo booths that are perfect for a variety of events. These are some of the best photo booths to buy in 2023 that are portable, easy-to-use, and versatile enough to be a great addition to your rental business.
Cloee Ring Light Photo Booth
The Cloee Ring Light is one of the best portable photo booths money can buy in 2023. Lined with vivid LED lights, this "tiny but mighty" photo booth transports even the most compact vehicle.
This also tops the list as one of the best photo booths of 2023 due to its all-inclusive features. The Cloee Ring Light includes built-in speakers, a high-def webcam, touch screen, computer, and installed photo booth software. This all-in-one portable photo booth pushes the envelope by providing not only amazing photos but background music to add extra entertainment value perfect for those high-energy events.
Miami Mobile Photo Booth
If you're seeking the best mobile photo booth to start your photo booth business, look no further than the Miami Mobile Photo Booth. Its lightweight design and portability means it can be transported to any venue and easily stored in your home. Plus, it's equipped with a high-def webcam, built-in speakers, touch screen, computer, and installed software.
This is one of the best photo booths of 2023 that takes high-quality pictures with the click of a button while keeping guests entertained.
iPad Photo Booth
For something even smaller and more portable, don't pass up the opportunity to try the iPad Photo Booth. This photo booth is incredibly easy to transport, set up, and take down. Since most people are familiar with how to use a tablet, it's a breeze to take timed photos.
The small size of this photo booth also makes it ideal for more intimate events. When there's not enough space to dedicate to a full-blown photo booth area, this compact option is ideal.
Magic Mirror Photo Booth | The PBI Mirror 2
If you're looking for a bold way to impress a crowd, get clients, and grow your business, the PBI Mirror 2 Photo Booth has you covered. This mirror photo booth can't be missed with its large touch surface that is also designed to be durable.
The polished design of this magic mirror photo booth is truly remarkable. The powerful Canon T6 camera is masked behind a strong mirrored glass surface. This Mirror 2 looks like it operates via magic and adds an elegant but whimsical element to any event.
Plus, the magic mirror photo booth models are equipped with the Canon T6 camera, rendering state of the art photos with each and every click.
360 Photo Booth
These 360 photo booths are all the rage at Hollywood events. As the name suggests, the 360 photo booth can rotate at 360 degrees, guaranteeing 360 degrees of non-stop, photo and video capturing fun.
Guests can move, dance, spin, and even throw props into the air as the spinning photo booth captures all their movements with lightning speed and transforms their movement into GIFs or stunning slow-motion videos. Our 360 photo booth for sale comes equipped with a rotating high-def camera, built-in speakers, touch screen, computer, and installed ready-to-use software.
This is one of the best photo booths of 2023 if you want to cater to larger events with a unique offering.
Shop From Photo Booth International
When it comes time to choose a photo booth company to purchase your inventory from, look no further than Photo Booth International. Along with offering a variety of these best photo booths for sale online, each of our photo booths come with a one year warranty and Lifetime American Tech Support.
We take pride in all our photo booths being handmade in Dallas Texas and quality tested multiple times before being shipped to your door or business. Our cutting edge photo booths are designed to set your business apart from the rest. Along with these best photo booths, our first class customer service and access to our member area helps create a recipe for success.
Check out our photo booths for sale today.