Photo Booth Business vs Amazon FBA: Which is Best for You?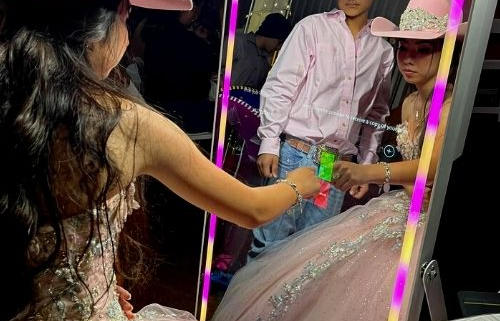 If you've been looking for a side hustle to start in the new year you've likely come across a variety of options. From food delivery and driving to freelancing, there are many opportunities to earn some extra income.
During your research, you've probably also come across information on how to start a Fulfillment by Amazon (FBA) business. But is this the right option for you? Could it be easier (and more profitable) to start your own photo booth business instead?
Read on to learn more about the pros and cons of each business model to find out which best aligns with your experience and goals.
What is Amazon FBA
If you've wanted to dip your toe into the  eCommerce business, become an FBA seller. According to Amazon, FBA is a service that allows businesses to outsource order fulfillment to Amazon. 
Rather than fulfilling orders yourself, you can send products to Amazon fulfillment centers and when a customer makes a purchase, Amazon picks, packs, and ships the order. Essentially, it can be a convenient way to grow an eCommerce business without having to worry about logistics like storing or shipping products.
The popularity of starting an Amazon FBA business has grown in recent years. The experts at BigCommerce explain that in 2020, nearly half of all Amazon sales came from third-party Amazon sellers rather than from Amazon directly. And along those, about ⅔ used the designated FBA platform.
Clearly, running an Amazon business is an option for entrepreneurs. But is it as lucrative as it sounds?
Pros and Cons of Amazon FBA
Like with any side hustle, there are pros and cons to selling on Amazon through the FBA program. Here are some thing to consider:
Pros of Running an Amazon FBA Business
Easy Logistics: One of the most apparent advantages of the FBA program is not having to worry about logistics. You keep track of listings and shipping to Amazon, and the company does fulfillment for you!
More Reach: Hundreds of millions of people use Amazon to shop for goods. With a product listing on Amazon, you can potentially reach more customers.
Quick Delivery: Qualified FBA listings are displayed with the Prime logo and can be delivered to customers quickly. Since Amazon handles fulfillment, you never have to worry about getting your product in the customer's hands.
No Storage: Since you're shipping your products to an Amazon warehouse for fulfillment, you don't have to worry about storage. You won't have to clutter up your living space with products.
Cons of Running an Amazon FBA Business
Costs: FBA is a service that comes with some upfront and recurring costs. Along with paying to be a certified FBA seller, you must also consider the costs of procuring your products, advertising, and more before your product pages begin to rank organically. According to a survey by Sellzone, 22% of Amazon sellers started with capital over $10,000 (which isn't practical for most entrepreneurs just starting out).
Competition: Looking up a simple product on Amazon will bring up hundreds of search results. Many Amazon stores sell identical products. Amazon is a competitive place and it can be difficult to stand out, make sales, gain product reviews and begin showing up top of page. Running an Amazon FBA business often isn't profitable for inexpensive, standard products.
Returns: Amazon's open return policy is great for customers, but not alway ideal for Amazon sellers. You may see more returns of your product selling through Amazon. While Amazon handles returns, they do get shipped back to you and, of course, affect your profits.
What is a Photo Booth Business
As you can see, opening an Amazon FBA business isn't for everyone. Another alternative that is convenient, profitable, and more fun is starting a photo booth business.
Running a photo booth rental business puts you in charge of your future. Essentially, all you need to do is find a photo booth for sale and begin renting it out for corporate events, weddings, birthday parties, and more!
While there's still some skills to learn and marketing involved, starting a photo booth business can be a great way to earn some extra income.
Pros and Cons of a Photo Booth Rental Business
Of course, there are also some pros and cons to be aware of when starting a photo booth business. Here are some to keep in mind:
Pros of Running a Photo Booth Business
Low Running Costs: A photo booth business is one of the very few opportunities where you can get set up quickly and run your operations with few expenses. Once you've found a photo booth for sale, you only have small expenses for paper, ink, and fuel.
Demand: More people than ever are looking to add a photo booth to their event. From weddings and business openings to conferences and celebrations, there are so many events that need a photo booth rental. High demand also means more potential for profits.
Variety: It's easy to make your photo booth business stand out against the rest. You can differentiate your business and build a loyal customer base.
Marketing: Advertising your business can seem intimidating at first, but it's surprisingly easy. Lean on social media and word of mouth to market your photo booth rental business. Since demand for this product is high, many people will seek you out!
Cons of Running a Photo Booth Business
Learning Curve: There is a bit of a learning curve when learning how a photo booth operates. Luckily, today's photo booths are intuitive to set up and use. Plus, the team at Photo Booth International will always make sure you know how to use your technology.
Setting Up Your Business: Starting a photo booth business can seem intimidating. That's why the team at Photo Booth International helps entrepreneurs like yourself every step of the way. We offer plenty of tips for starting your photo booth business, from setting up an LLC and bookkeeping to advertising advice.
If you're looking for a convenient, cost-effective, and fun way to earn extra income, starting a photo booth business might be right for you. Check out our photo booths today to get started.