Single Mom Paid Off Her 7k Photo Booth In 5 Months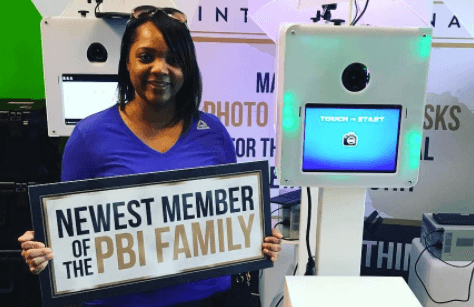 Meet our client Martina, she is a teacher and a single mom of 2 kids, she purchased her very first photo booth about 5 months ago. Since then, she has had to purchase media from us over 5 times which shows how busy she has been. When Martina was looking for a way to make extra money, her sister in law suggested she look into purchasing a photo booth. After Martina did her research, she ended up at Photo Booth International to purchase our Prime Booth. She had other options when it came to earning extra cash like opening up a day care but that would have been a lot to handle. She also thought about tutoring on the side since she already works in the education field but she wanted to try something new.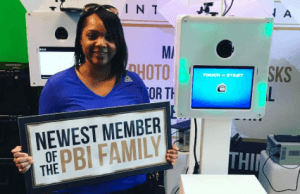 During her Grandparent's 60th wedding anniversary, she saw a photo booth set up and she saw all the attention that it was getting. She decided to purchase one and start her own side business on the side. She has some experience in being an entrepreneur when she opened her basket gifting business during the seasonal holidays of the year. She shared that for the last 6 months she has been booked every weekend! Every now and then she does get events during the week but she still works her full time job as an educational advisor during the week. 
How has she grown so much? She has gotten referrals from parties that she has booked. Her first event was for a mother's event at a museum in Love Field. However, because it was her first event, she didn't know what she was getting herself into. She wasn't sure on how much to charge so she decided to charge $450 with a 600 people event but she now knows she should have charged more due to the size of the event. She feels like our videos have helped her in a positive way. When she barely started she didn't know what she was doing so she would always refer back to those videos to help her with any issues that she may be having with her booth. 
Her key to gain customers, is social media, word of mouth, friends and family referrals, the Knot. She used our private Facebook group to get ideas, get tips and we even give her ideas on how to work her booth and how to do events. We also gave her some tips like registering your business on Google My Business, where you can put your business on Google. It's important to link everything back to your website to grow a presence. Martina advices that anyone interested in starting a photo booth business is to think about it long and hard but it is a very rewarding business to be in. Doing something that you love to do always seems rewarding to her. Since she has purchased her booth and booked all these gigs she has been able to make up the money that she spent on her booth. It took her only 5 months to make what she spent on her booth and she already has October booked. Her goal is to purchase a second booth because it will allow her to book more events. She says that she is almost at the 10k club with the next few events that she has booked. There is always events going on and there is such a large photo booth industry out there that a lot of events want a photo booth because it's the life of the party. Always remember it's never to late in the game to start a photo booth business. 
ARE YOU READY TO CHANGE YOUR LIFE?
LET US HELP YOU… Click Below Or Call/Text 972-301-2930