Which is the best iPad photo booth app?
Here at PBI, we have been getting a lot of questions about what kinds of photo booth software we recommend for the iPad, more specifically our iPad Eclipse 2 photo booth.  We wanted to put together a list of iPad photo booth apps that we recommend checking out.  Here is a list of 6 that are worth taking a look at.  We recommend choosing your top 2-3 and testing them to choose the one that works best for you, your business, and your customers.
Check out our Eclipse 2 iPad Photo Booth Here!
The Luna Booth is $20 monthly – Unlimited Events
Luna Booth is probably the most cost effective booth on our list, and it doesn't cut corners on features.  It has a free version to try out first, but you get watermarks until you purchase pro.  Some of our favorite features of Luma Booth are:
Drag and Drop Editor
Customize Start Screen Including Custom Colors
Advanced Camera Settings
Printing capabilities with air printer or through pc with available bridging software
Email/sms/social media – Can select which are available for specific events – Offline store until online capable
Creates Animated gifs
Free Trial Available Here
 My Photo Booth + Pic Monkey  9.99 (one time) + 7.99/mo
My Photo Booth is a great option at a great price if you don't mind creating your personalized designs from outside of the app.  I don't think too many professionals will find this as a problem though.  There are a ton of ready-made designs as well.  Here are some of our favorite features:
Print directly from app
Readymade/personalized designs
Lock iPad and Settings from guests
Filters
Bluetooth shutter options
Social Integrations
Simple Booth – $69/mo Unlimited should work for most, or they have a $169/mo option as well.
Simple booth is a powerful app that we enjoyed checking out.  It is definitely capable, and can be used for business.  It is mainly geared for the iPhone though so try it out and see if you are good with the interface before you buy.  Here are some of our favorite features:
Gifs
Layouts
Filters
Autopic (No-Touch)
Social Sharing Capabilities
Gallery for events so you can share with clients.
Snappic iPad Photo Booth App – Either 19/event – 69/mo for Unlimited for basic (this is good for most people) – There is an enterprise option for 169/mo
Snappic is an exciting app with some advanced features that we really like.  This would be a great option for someone who is serious about expanding business with the Eclipse 2.  Clients love this software!
Here are the best features:
Fully Branded
Full Sharing/Printing Capabilities
Animated Touch-To-Start Screen
Branded Overlay on Images Capable
Exciting Additional Overlay Options
Boomerang Style
Digital Props
Optional Add a Disclaimer
Data Analytics
Shared Branded Photos Everywhere
Add an additional iPad so people don't keep guests waiting to use the booth with Snappic's additional "Sharing Station" app
Ability to connect with DSLR Camera
Curator – There is an option for a 29/event option, but you want at least the 140/mo Unlimited option as it unlocks key features.  There is also a 249/mo option that you can choose at your discretion.
This software is similar to Snappic in features, but Snappic tends to offer a little more value per your dollar.  Try it out and see what you think and let us know.  A few features that we like are:
Customize logo and layout
Social/email/sms
Offline Que
Printing
Boomerang
Analytics
Slideshow iPad Photo Booth App – $550 One Time Fee/Multiple Devices
This software might just be a winner if you don't mind being unable to do certain customizations to your home screen.  It has advanced facial recognition, and some other good features.  The one time fee is obviously very desirable but definitely give this one's free version a try and see if you are going to be able to work with the limitations that it has.  Here are some of its features that we did like:
Clean Easy UI
Custom art for videos, photos, and gifs
Live props
Face detection
Manual camera controls
Set countdown timer
Air print or download windows app to connect to any printer
Change languages for non-English speaking crowds
Customize Artwork
So those are the 6 we recommend for checking out and getting started with your iPad photo booth journey.  It is a great way to expand your business with an extremely mobile option.  Obviously you are still going to want to bring the props and backdrop, but it all helps.  Which iPad photo booth software do you prefer?  Let us know!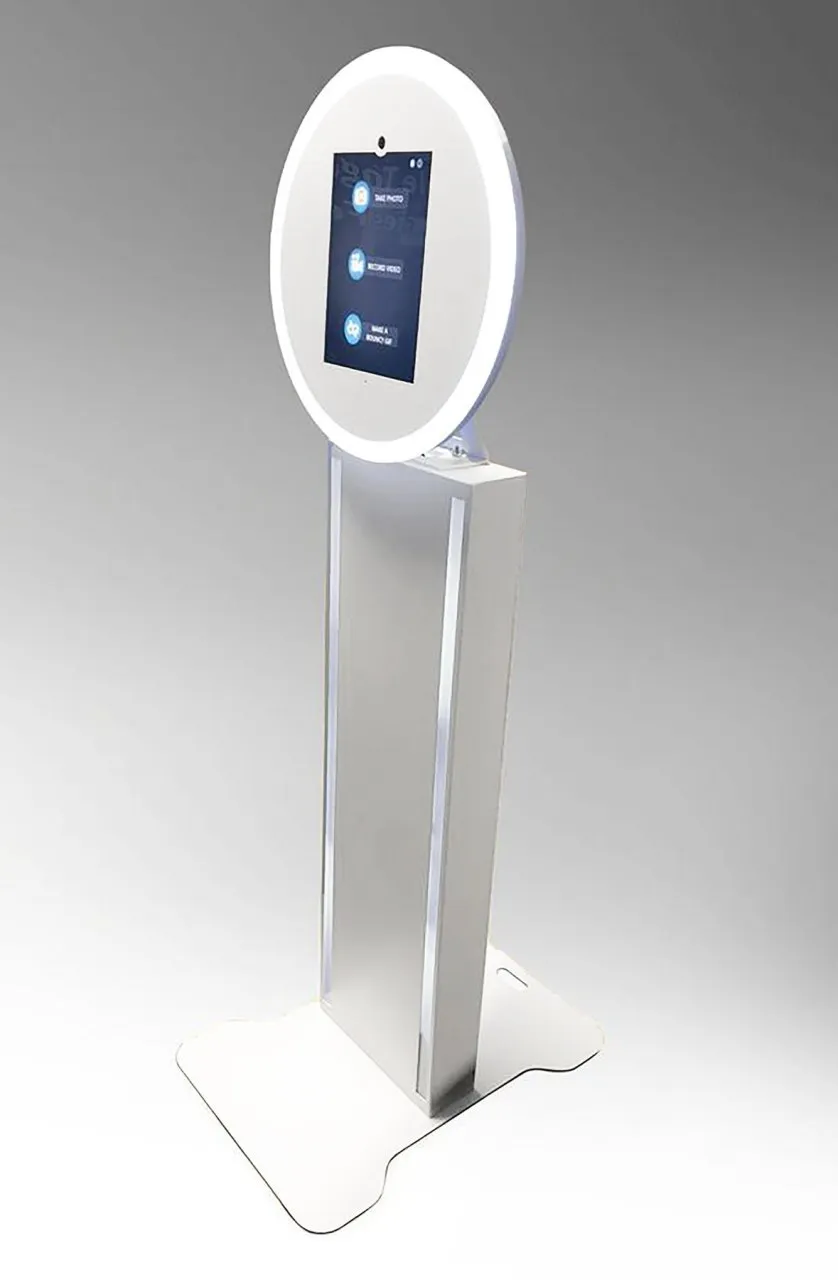 Don't forget to check out the Ultimate iPad Photo Booth Kiosk.  Of course we are talking about the Eclipse 2 iPad Photo Booth. If you have been waiting for the perfect time to get involved with iPad photo booths, now is the time.  This booth is a game changer, and easily blows the competition away when it comes to iPad photo booths.  Their little flimsy stands can't touch the elegance of the Eclipse 2.
https://photoboothint.com/wp-content/uploads/2019/06/What-is-the-best-ipad-photo-booth-app-2.png
800
800
jrcookofficial
https://photoboothint.com/wp-content/uploads/2017/02/logo_header.png
jrcookofficial
2019-06-12 18:22:49
2019-06-17 19:21:43
Which is the best iPad photo booth app? We take a look at 6 of them.