Which is the best iPad photo booth app?
Here at PBI, we have been getting a lot of questions about what kinds of photo booth software we recommend for the iPad, more specifically our iPad Eclipse 3 photo booth.  We wanted to put together a list of iPad photo booth apps that we recommend checking out.  Here is a list of 6 that are worth taking a look at.  We recommend choosing your top 2-3 and testing them to choose the one that works best for you, your business, and your customers.
An iPad Solution for Darkroom Booth
As photo booth professionals, we think that Darkroom Booth for iPad is the best software out there.  It is great for both pros and amateurs alike.  It is packed full of any feature you could want.  The price is also insanely great.  You can choose a 29.99 per month option, or pay yearly for a discount.
Key Features:
Still Images, GIFs & Bursts

Email Sharing

Camera Control

Offline Mode

Microsites

Cloudless

Unlimited Events up to 10 Devices

Translation

Overlays

White Label

Marketing Automation

Printing

Data Capture & Analytics

File Sync

SMS Sharing

Custom Sharing Through iOS Share Extensions

AirDrop Sharing

Luma Booth is probably the most cost effective booth on our list, and it doesn't cut corners on features.  It has a free version to try out first, but you get watermarks until you purchase pro.  Some of our favorite features of Luma Booth are:
Drag and Drop Editor

Customize Start Screen Including Custom Colors

Advanced Camera Settings

Printing capabilities with air printer or through pc with available bridging software

Email/sms/social media – Can select which are available for specific events – Offline store until online capable

Creates Animated gifs

Free Trial Available Here
My Photo Booth is a great option at a great price if you don't mind creating your personalized designs from outside of the app.  I don't think too many professionals will find this as a problem though.  There are a ton of ready-made designs as well.  Here are some of our favorite features:
Print directly from app

Readymade/personalized designs

Lock iPad and Settings from guests

Filters

Bluetooth shutter options

Social Integrations
Simple booth is a powerful app that we enjoyed checking out.  It is definitely capable, and can be used for business.  It is mainly geared for the iPhone though so try it out and see if you are good with the interface before you buy.  Here are some of our favorite features:
Gifs

Layouts

Filters

Autopic (No-Touch)

Social Sharing Capabilities

Gallery for events so you can share with clients.
Snappic is an exciting app with some advanced features that we really like.  This would be a great option for someone who is serious about expanding business with the Eclipse 2.  Clients love this software!
Here are the best features:
Fully Branded

Full Sharing/Printing Capabilities

Animated Touch-To-Start Screen

Branded Overlay on Images Capable

Exciting Additional Overlay Options

Boomerang Style

Digital Props

Optional Add a Disclaimer

Data Analytics

Shared Branded Photos Everywhere

Add an additional iPad so people don't keep guests waiting to use the booth with Snappic's additional "Sharing Station" app

Ability to connect with DSLR Camera
This software is similar to Snappic in features, but Snappic tends to offer a little more value per your dollar.  Try it out and see what you think and let us know.  A few features that we like are:
Customize logo and layout

Social/email/sms

Offline Que

Printing

Boomerang

Analytics
A Photo Booth App for Every Event
Obviously, different events are going to call for different types of approaches to photos and just about everything else that is related to that event. For instance, if you're having a party with friends, the photo booth you have in place is going to be used very differently than how you'd expect it to be used at a corporate networking event. That means that when it comes to the photo booth app you choose, versatility is vitally important.
The bottom line for you, if you're running a photo booth business, is that you keep your costs low and that you're able to accommodate every type of event efficiently and smoothly. A photo booth app that can handle multiple different settings, styles and themes is only going to help you market yourself to more groups, people and organizations, and that's only going to increase your exposure as you continue to successfully work different events and occasions.
So those are the 6 we recommend for checking out and getting started with your iPad photo booth journey.  It is a great way to expand your business with an extremely mobile option.  Obviously you are still going to want to bring the props and backdrop, but it all helps.  Which iPad photo booth software do you prefer?  Let us know!
Don't forget to check out the Ultimate iPad Photo Booth.  Of course, we are talking about the Eclipse 3 iPad Photo Booth. If you have been waiting for the perfect time to get involved with iPad photo booths, now is the time.  This booth is a game-changer, and easily blows the competition away when it comes to iPad photo booths.  Their little flimsy stands can't touch the elegance of the Eclipse 2.
Buy The Best Ipad Photo Booth Now From Photo Booth International
Less Than $3999 With Everything You Need.
See Videos Below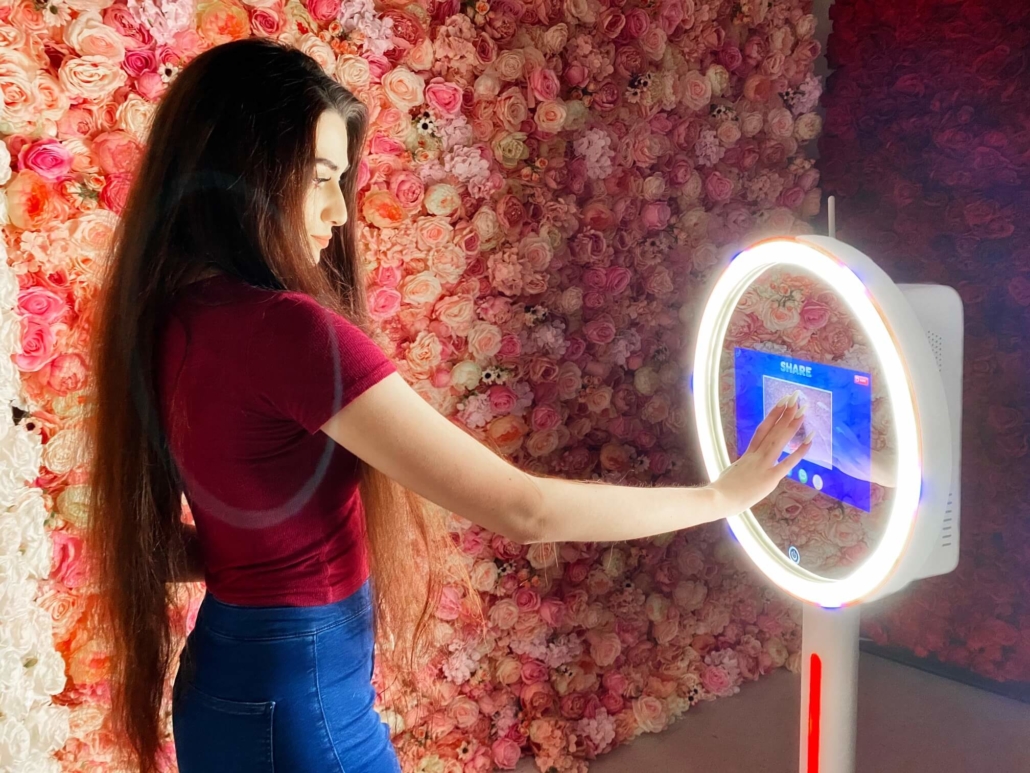 Your Photo Booth App Selection is Important
Photo Booth International offers a wide variety of photo booths. One of the most popular booth models is our iPad booth. This type of booth is easy for customers to use, no matter their age. Since this photo booth is such a popular model, it is crucial to select the best photo booth app software to ensure your customers can efficiently operate and understand the iPad photo booth to increase their chances of having a positive experience.
Every Photo Booth Experience Should Be Positive
Substandard photo booth software can lead to negative interactions for the customers. Not only can one negative experience alienate your current client base, but it can also jeopardize your chance of acquiring new clients in the future. If one person hears your photo booth software is hard to use, they will likely spread the word.
You can easily avoid this potentially harmful occurrence by selecting an app that is not only going to increase the fun factor of the photo booth but that is also going to be extremely easy for every customer to understand. The best way to ensure you have the best photo booth app is to try a few different ones and use them yourself to get the full experience. The odds are that if you have trouble using it or do not particularly like it, your customers will think the same. Use different apps until you find one that is fun, easy to use, and perfect for any age range.
The worst thing for any photo booth business owner is for customers to think the photo booth app is too hard to use or understand, making what should be a fun experience a negative one. Avoid this mishap by selecting one of the listed photo booth app software selections to ensure your customers have the best experience possible.
Introducing The NEW Cloee Photo Booth All inclusive Photo Booth For Less Than $3999