The Best New Photo Booths of 2021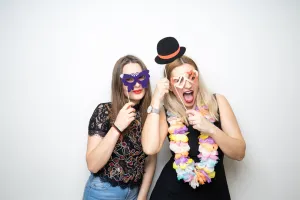 A photo booth business is one of the hottest new business ventures for 2021. But in order to get started you'll need the best new photo booths available in 2021 so that you can offer more than just any old photo booth. After all, everyone's carrying a bonafide camera in their pockets, so any photo booth really has to step up the game and offer something that will make people stand up and take notice. 
The good news is that there are a lot of options out there when it comes to the best photo booth to buy, and that means you can fit your purchase to your actual business needs instead of vice versa. From compact photo booths to systems with all the bells and whistles, there's a photo booth to meet any need regardless of if you're just starting out or you've decided to build out a fleet of photo booths.
Ring Light Photo Booths
As our most portable ring light photo booth, the Cloee Ring Light Photo Booth is ideal for those just starting out on their photo booth journey. It's easy to transport, and it definitely captures attention with its large ring light, so patrons know that they'll get a great shot each time out. We've lined the photo booth with vivid LED lights, built-in speakers and a hi-def camera with a touch-screen computer interface — and it all packs up in just 10 minutes, making it one of the best new photo booths in 2021.
Omni-Directional Photo Booths
For those that want the latest in tech and wizardry, our 360 Photo Booth is one of the best new photo booths in 2021. Unlike other photo booths that just sit and capture a static view, this photo booth rotates a full 360 degrees, allowing patrons to further express themselves with motion such as spinning, dancing and even throwing props in the air. It can easily become the focal point of any event, and the best part is that it's interactive so everyone will want a turn.
Portable Mirror Booths
The Astro Mirror is one of the simplest and most intuitive photo booths we sell. Its lightweight and foldable design also makes it one of the best new photo booths in 2021, complete with a slick and modern feel that is reminiscent of a supersized, touchscreen phone. Including a case and printer, the Astro Mirror is essentially an all-in-one photo booth business in a box. And with our no-risk, one-year warranty with lifetime customer service, you'll be able to count on the Astro Mirror as your business grows.
Another mirror-type photo booth, the PBI Mirror 3 is our most elegant, sleek and modern photo booth. It's one of the best new photo booths in 2021, and it works in any environment or venue due to its infinite touch surface mirror and thin frame. It's the Rolls Royce of photo booths, and in our opinion it's one of the best photo booths that you can buy. With a premium look and slick touch screen interface, the PBI Mirror 3 is ideal for any upscale event. It's also durable and dependable, and you'll be able to generate business for years to come with this great photo booth that basically sells itself.
The Best Photo Booths From PBI
If you're in the market for a new photo booth or are contemplating how you can break into the industry with a photo booth business of your own, PBI has your back with the best new photo booths in 2021 and beyond. Browse our photo booths or contact us for a quote to get started.