Easily Step Up Your Social Media Game This Year
2017 is in full swing, do you still aim to post more on your social media? when you sit down for five minutes ready to post, do you draw a blank?
Yeah, I thought so! This used to happen to us until I found this hack.
You've probably heard about this cool tool called hootsuite.com a social media management tool. See the full review here by PC Mag.
This is what I have been using to increase my customer engagements and to post new articles on our Facebook Page found here, and other platforms.
Hootsuite is free to manage up to 3 social accounts this will be sufficient for most small businesses. You can easily connect your Twitter Facebook and Linkedin or Google Plus. Once this connects you don't have to worry about sharing passwords and resetting passwords which drives me insane. I'm testing out this new password app now – Check it out here let me know what you think about it if you have used it or recommend something better.
Setup HootSuite and plan once a week to sit down for 10 min and use the secret tool the publisher! This tool will let you schedule posts out automatically,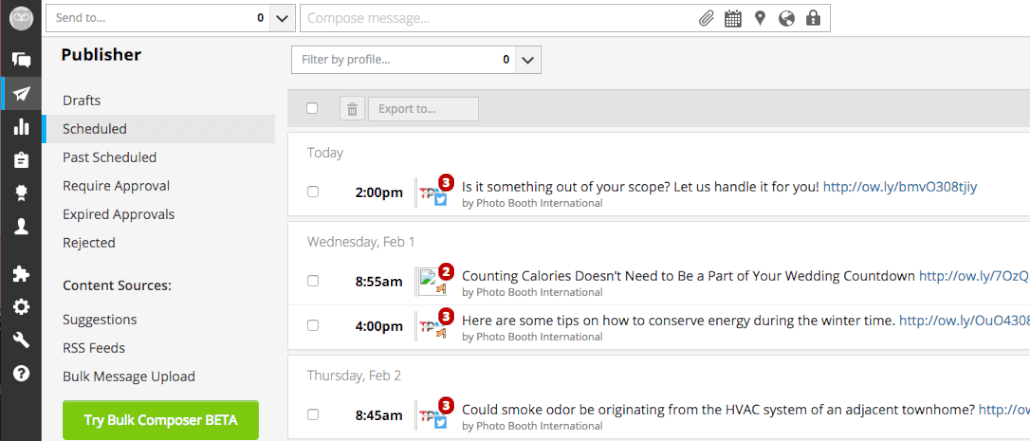 Within publisher, there is another deep dark secret called "suggestions". A quick click of this, and it will ask you for three keywords. Once entered it will then display relevant content based on your keywords.
Next, I usually filter them down to make sure nothing inappropriate comes up, one click schedule will post the content on all of your accounts at the time your users are most likely to engage with your content. Wow, all this for free!
So wipe the cyber dust off your Facebook and Twitter accounts and get in the game today.
Check back soon for more tips and tricks.
Ready To Talk About a Photo Booth For Your Business? Fill Out The Contact Form HERE & We Will Reach Out.