Tips for Booking Your First Photo Booth Event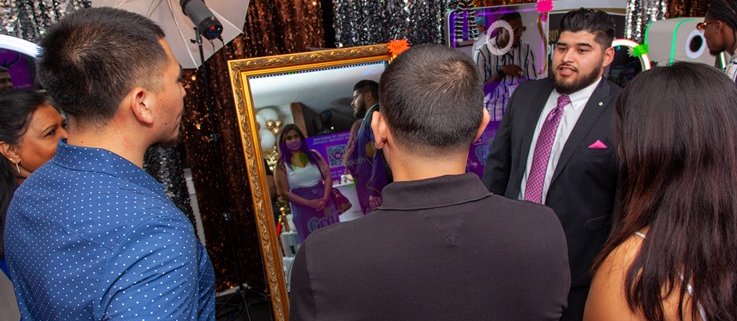 You've found the perfect photo booth for your business, mastered how to use it, and collected fun and exciting photo booth props and backdrops. Now it's time to book your first photo booth event!
Starting a photo booth business can be a great side hustle, but booking your first event can feel like a big hurdle to overcome. Luckily, we're here to help with some of our favorite tips and tricks for how to break into the photo booth market.
1. Build a Portfolio
First things first, potential customers not only want to know about your photo booth experience, they actually want to see what your equipment can do. It's important to build an impressive portfolio even before you start booking events. 
You can test out your photo booths with friends and family or hire models to strike a pose for test pictures. Add them to your portfolio so potential customers can see the high-quality pictures your booths can take.
Also, you may want to add pictures of your photo booths online. There are so many popular types of models to choose from, from the Cloee Ring Light Photo Booth and Miami Mobile Photo Booth to the convenient iPad photo booth.
Showing off your inventory can help customers visualize what your photo booth rental could look like at their event.
 2. Set up Google My Business
When running an event photo booth rental business, the internet can be your greatest asset. You'll want to set up Google My Business (GMB). This is a free and easy-to-use tool for businesses and organizations to manage their online presence across Google, including Search and Maps.
According to Google, creating a GMB profile takes just a few minutes and doesn't cost a thing. It's a great tool to help promote your photo booth for events and help potential customers find you more easily online. It may even be the key to getting your first event!
Clients can also leave reviews of your business to help with your credibility and help you book even more events.
3. Advertise Online
Similarly, you'll want to use other channels like social media to advertise your new business. While word-of-mouth marketing and reaching out to your network are also great for booking your first event, social media helps you cast a wider net. 
Plus, when you set up a strong social media presence right away it can help your business in the long run. You can ask customers to share their photos and your social media pages can also double as a digital portfolio!
Here are some tips for how to advertise your photo booth business on popular social media platforms:
Facebook:

Set up a Facebook business page that's accurate and professional. Use the 'About' section of your page to give an overview of your business and any promotions you may have. Ensure contact information is up to date as well and post regularly to keep followers engaged.

Instagram:

This is a crucial platform for your photo booth business to utilize since it's all about sharing photos! Make sure you include a catchy bio that describes what you do with relevant hashtags and emojis. Then, use posts and stories to share relevant content. You can even save them as highlights so people can easily find the content they're looking for. 

YouTube:

Don't forget about using videos to promote your brand. Use relevant keywords in your YouTube channel description to help people find your channel quickly and upload content regularly. Have a professional banner made so your channel is cohesive with your other social media platforms. 
4. Target Different Events
When it's time to book your first event, think of the timing. Photo booth rentals can be used for any number of special events, from birthday parties and weddings to corporate events and conferences. You can choose to offer your services to all of these events, or target a specific market. 
However, you may have more luck booking your first photo booth event by understanding what's in season or popular in your area. For instance, if it's the holiday season you may want to offer your services to holiday parties and tailor your marketing and props to these events. In the summer or fall, you could focus on weddings since it's a popular time of year for them.
5. Offer Promotions
Discounts or promotions are some of the best ways to encourage customers to purchase your services, according to Indeed. Oftentimes, this is very product-based and could include things like a free gift with a purchase or a buy one, get one free sale.
For a photo booth for events, you could offer special promotions for first-time customers (or repeat customers). You could also sweeten the deal by including unique props or backdrops. Similarly, you could offer seasonal specials. No matter the case, promotions can be a great way to catch a customer's attention and book your first event.
6. Differentiate Your Business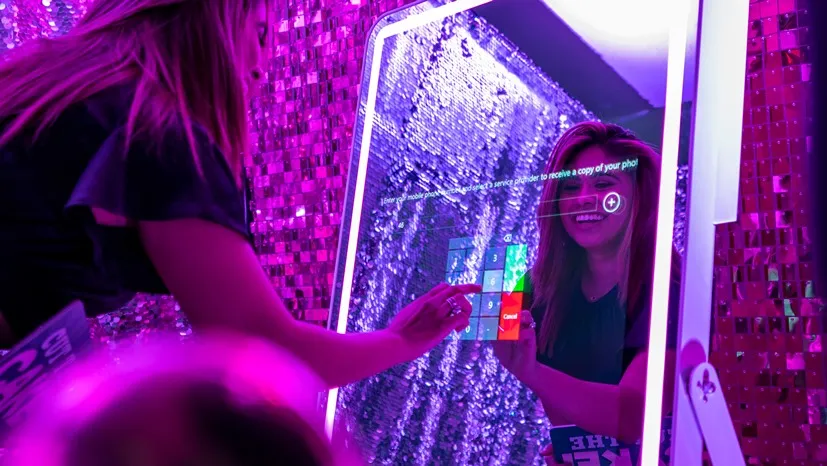 Finally, you can't overlook the importance of differentiating your photo booth business from the rest. Do you know how to set up a photo booth for an event efficiently and offer this as part of your service? Do you have more creative event photo booth ideas than the competition? Or, maybe you offer one-of-a-kind photo booth backdrops and props you can't find anywhere else.
No matter the case, it's important to showcase what makes your photo booth business unique! You can learn more about how to market your photo booth business and get leads in our Photo Booth Sales University.
Get Help from Photo Booth International
At Photo Booth International, we know that photo booths are a great way to start your own business. That's why we help entrepreneurs start their businesses with our cutting-edge photo booths and world-class customer service. Along your journey, we can help provide the advice, guidance, and tools it takes to make your photo booth business a success.
Browse our selection of photo booths for sale today and book your first photo booth event in no time!