Here are some of our photo booth success stories from the month of September!
Another month has gone by and we couldn't be happier with all of the progress that we have been seeing with all of the PBI Family members.  As you know, our exclusive Facebook community has been popping from all of the activity that you guys have been up to.  We would like to highlight some of our favorite stories and photo booth success we noticed this month!
Interested in Growing Your Business?  We Finance New Photo Booths!
Our Top Contributor This Month in the Facebook Group
Congrats To Zoraida C Alvarez For The Top #PBIfamily Contributor Of The Month Of September. Who Will Win This Month?
Zoraida is new to the PBI Family but she is doing well already with her business, Pics and Tales Photo Booth.  She is continuously gracing us with great news about her business inspiring new and old members alike.  We are happy to see her utilizing the group for help in her own business, and giving help to others.  We are happy to have you in our family, and wish you even more success with your photo booth business!
Oh Snap, All Snap is Here! Congrats Guys on Your New Branding.
First Gigs with their New PBI Photo Booth Equipment
Thanks for sharing your first gigs guys!  We know that the first few gigs are a really exciting milestone.  It proves to us that this concept can really work.  Keep working hard and you can grow your business to be as big as you want.
Kristel and Michael Rogers had a great first gig this September.  Congrats guys!
Tharaneka Sparrow was also kind enough to share their first event with us as well!  We look forward to seeing the rest of your success to come!
Ready to take your business and life to the next level?  Apply to join Josh Pather's Inner Circle Today!
Winner of Our Media Kit Prize Raffle!
EddyGee won our Media Kit Prize from our raffle.  Enjoy!
Make sure you sign up for all of our contests so you can be our next winner.  Find out about them in our Secret PBI Family Photo Booth Success Facebook Group!
We like to acknowledge people when we see them making strides or having particularly big wins.  This month have have two.
First we saw Alejandra Charles head out for a 3 event night.  He was running 2 weddings and 1 quinceñera. That truck looks packed.
The other good thing we saw was that Brian Burns did $6100 worth of business.
We wish you all even greater success this month as you keep developing and growing your businesses!
Check Out Our Other Articles on How to Improve Your Business!
Are you looking for world class training on getting your business humming like a pro?  PBI Course, The Ultimate Photo Booth Rental Course is for you!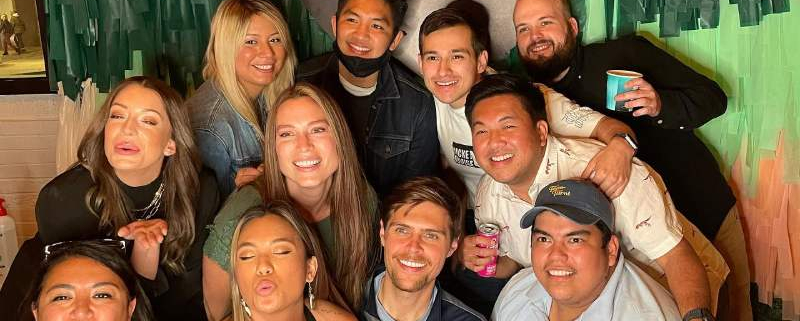 As a business owner or manager, you're always looking for ways to connect with customers and improve your bottom line. Offering photo booth rentals as an extension of your brand can be a great way to do both!
Read on to learn more about the businesses that can earn additional revenue by providing photo booth rentals.
Benefits of Starting a Photo Booth Rental Business
Investing in a photo booth rental is an investment in yourself and your business. Here are some reasons why you should consider offering photo booth rental services as part of your company:
There's low risk when investing in a photo booth business. You don't need employees, an office of inventory beyond a high-quality photo booth.
There are many ways to differentiate your photo booth rental business to stand out against the competition.
It's easy to market your photo booth business online, especially when you have support and advice from experts.
You can make your brand stand out with unique props, backdrops, and more.
While these aren't the only benefits of starting your own photo booth rental business, they show how easy it can be to include them into your existing business plan.
Businesses That Can Benefit From Photo Booth Rentals
While you can certainly start a dedicated photo booth rental company as an entrepreneur, it's also a great side hustle if you're already established in a different industry. Here are a handful of businesses that you may not know can profit from offering photo booth services.
1. Event Planners
Whether you specialize in weddings, corporate events, birthday parties, or planning other special occasions, your business can benefit from offering a photo booth package. Capturing high-quality photos of these events is an important part of the planning process. With a photo booth, you can offer your customers the chance to rent your tech directly from you.
As an event planner, your customers trust you to make their special day a success. Now, you can offer them even more fun and a way to capture memories through photos, videos, and GIFs.
2. Social Media Managers
As a social media professional, you know what it takes to snap the perfect picture or go viral. Whether you freelance, work for a small business, or run the department at a large corporation, you can offer photo booth rental services on the side.
Help your customers or businesses elevate their events or photo taking skills with a high-tech photo booth. Then, take things a step further and help them use their new, branded content as part of their marketing strategy.
Offering a photo booth can add an additional revenue stream to your business. And, most importantly, it makes sense as part of your social media consulting skills.
3. Retailers
If you own a retail business, a photo booth can do more than simply get guests through the door. While offering a photo booth mirror in-store is a great way to connect with guests and create branded content, you can also rent it out to other retail businesses for special events.
Whether there's a grand opening happening or a holiday sales event, you can rent your photo booth to other retailers (especially if you're located in a populated area like a mall) to earn additional income.
4. Restaurants
While you may not think that dining and professional photos go hand in hand, this can be a smart business decision if you own a restaurant that specializes in hosting large parties. If you frequently have customers renting out the dining room for parties, weddings, or corporate events, you can offer them the chance to rent a photo booth to bring the fun.
Also, consider how many restaurants offer additional entertainment like coin-operated video games and more. A photo booth is easy to set up and is fun for people of all ages to use while they wait for their seat or at an event.
5. Photography Business
As a professional photographer, you're used to working with high-quality cameras and equipment to capture everything from portraits to candids. However, if you're hired for large parties you can also offer a photo booth rental alongside your services.
While you snap professional photos, guests can capture fun and goofy moments you might miss over at the photo booth. This is a great way to ensure your customers receive the best experience possible and a variety of stunning, heartfelt, and funny images from their special day.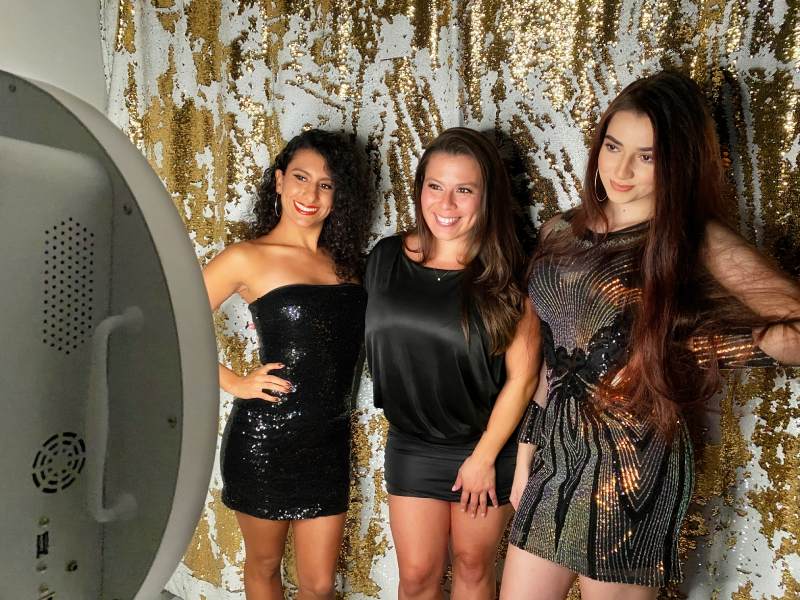 Tips For Starting a Portable Photo Booth Business
When adding these services to your company, always consider how a photo booth can benefit your business plan. Here are some tips for incorporating a portable photo booth rental into your business:
Choose the Right Photo Booth
Modern photo booths have a ton of different features and looks. When looking for photo booths for sale, make sure to find one that makes sense for your business, customers, and technical knowledge.
For instance, a 360 Photo Booth isn't always the best for beginners, but a touch screen Magic Mirror Booth can be easier to set up and for customers to use.
Consider Extras
Will you include additions to your photo booth business? From creative props and custom backdrops to things like a ring light, you should consider the additional equipment you will offer guests. This can cost more upfront, but also means you can charge more for your services.
Market Your Side Hustle
You've found a mirror photo booth for sale and have your props in order, now it's time to market your services. It's important to connect with your customers and show them how a photo booth can enhance your existing services. Also, make sure to advertise your photo booth rental online, on business cards, and more.
When it comes time to start your photo booth rental business, trust Photo Booth International to help. We take pride in offering exceptional products to our clients and outstanding services with support. Shop our selection of photo booths for sale to get started with your business today!
/
by

Photo Booth Sales
https://photoboothint.com/wp-content/uploads/2022/08/Individuals-taking-a-picture-at-photo-booth.jpg
800
800
Photo Booth Sales
https://photoboothint.com/wp-content/uploads/2021/05/Website-Logo-04.png
Photo Booth Sales
2022-08-08 08:36:07
2022-08-08 08:36:07
5 Businesses That Can Surprisingly Profit from Photo Booths