8 Reasons to Buy a Photo Booth as a Wedding Photographer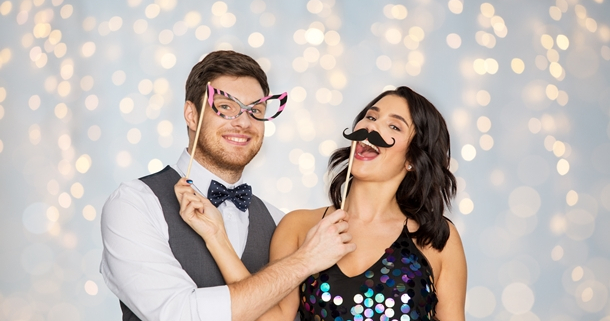 Wedding photographers already have a lot on their plate when it comes to capturing those beautiful moments while staying out of the way. After all, you're being paid to work, and part of it is being efficient with your time while also generating the photographs that will help make that wedding a success when the bride and groom look back on it all.
But did you know that you could be making more money while offering a unique service that's plug-and-play for your wedding photography business? All it takes is a photo booth for your next wedding and you'll be able to charge more and give your clients another great way to ring in their union. In fact, many couples and wedding planners are starting to add photo booths to their wedding requests, but if they know that you offer it, too, that could give you a leg up on your competitors and give you an edge in the tough wedding photographer market.
Here are some more reasons why you should consider adding a photo booth for your wedding photography business.
More Entertainment for Guests
A photo booth for your next wedding is an excellent way to provide additional entertainment to guests that may not want to opt in to dancing or some of the other festivities. It's also another way that guests can express themselves, and that can mean more memorable moments captured in the photo booth that wouldn't have been possible otherwise. Especially if you have defined photo blocks or times that you're shooting, a photo booth can help fill in gaps before or after things get started.
It's the Perfect Wedding Favor
Compared to typical wedding favors, wedding photo booths provide the perfect blend of personalization and intrigue for guests as they capture interesting moments inside the photo booth. Aside from providing prints on the spot, photos can also be customized with additional graphics and other options both during and after the event. Forget about wedding favors that will quickly be thrown away after the big day — a photo booth is one of those great ideas for a wedding that's often a big hit!
Props Make It Easy
Sure, you might be hard-pressed to throw two or more people in front of a camera and end up with something memorable and interesting, but with a handful of props and signs, that photo booth for your next wedding will undoubtedly encourage participation. Props allow people to express themselves and find a reason for a photo even if they're apprehensive, and that means more opportunities if you have a few convenient props laying out. Be adventurous! Masks, glasses, wigs, hats and other props can turn any photo opportunity into a revenue stream at your next wedding.
Create Interesting Moments
Some people freeze when they're confronted with a photographer and the chance to be immortalized forever in a wedding album. But a photo booth for your next wedding will give even the photo-averse a chance to capture their own interesting photo. With a photo booth and props, guests can be themselves and shoot for that perfect photo — or try again if it doesn't work out. Since a photo booth is more private than the dance floor or out among all the guests, you might just find more interesting photos to include in that final package for the bride and groom.
Encourage Sharing and Tagging
We all know that most photos today end up on social media where they're tagged and shared. With a photo booth for your next wedding, you'll be helping guests create more memorable moments with photos that they can tag and share online. Whether you have an email signup for digital delivery or guests are simply taking snaps of the printouts, a photo booth can help promote your business online. And when others see how much fun your booth is, you'll get calls for that next gig in no time at all.
Augment Your Photography
Any wedding photographer knows that there's only so much that you can do at a gig. And unless you want to hire a support team to help capture more photos, which comes with considerable costs that could price you out of your existing market, one of the best ways to extend that income is to offer additional services like a photo booth for your next wedding. Once set up, it'll take pictures and help make you more money while you have the freedom to go off and do what you do best. At the end of the wedding, you'll have not only the photos you took, but also all the fun photos that were taken by guests in the photo booth.
Doubles as a Guestbook
One of the great things about a photo booth for your next wedding is that it also doubles as a guestbook. Instead of having guests sign in with a simple ledger, a photo booth can help provide context to the day's festivities, and each image can be quickly printed out and signed for a more memorable guestbook for the bride and groom. After the wedding, you can also send a book of photos to other guests that request it, which can help provide you an additional revenue stream.
They're Fun!
But the best reason of all to get a photo booth for your next wedding is that they're fun. If all else fails and the DJ's playing the wrong song or the booked entertainment isn't working out, a photo booth will always be a hit. Who doesn't like taking pictures in a photo booth? Besides, most people are so used to taking and looking at photos on their phone that a photo booth is something truly novel and interesting. And once guests get behind the lens and screen of a photo booth, you'll start to see unique expressions that you won't be able to capture in any other way as a wedding photographer.
Expand Your Business
As you can see, a photo booth is ideal for wedding photographers that want to expand their business. They're also an easy way to make more money and bring more to your offering as a wedding photographer without taking money out of your pocket like with hiring an additional photographer. In fact, you'll likely pay for your photo booth with just one gig, and that means turning an even bigger profit for each successive gig.
Learn more about your photo booth options with Photo Booth Int. With the Astro, the Cloee and other excellent photo booths, you can up your wedding photographer game overnight.