6 Ways To Make Your Brand Stand Out With Digital Photo Booths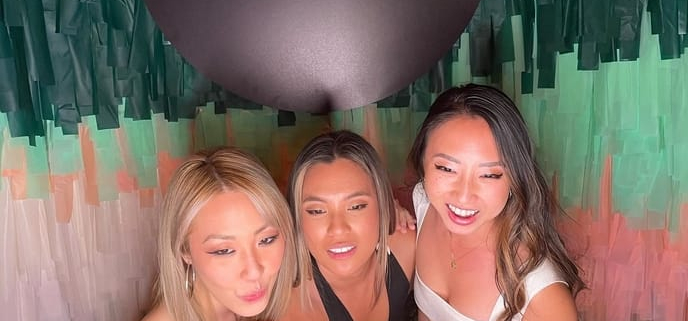 Making your brand stand out in today's competitive business climate is no small task. Consumers are constantly being shown advertisements to the point where it easily becomes background noise.
So, how do you distinguish your brand from the rest? A digital photo booth is one creative marketing tool that can help!
Read on to learn more about how brands can use digital photo booths to promote their business.
What is a Digital Photo Booth?
A digital photo booth isn't your average mall photo booth of decades past! Modern digital photo booths are sleek, portable, user-friendly, and, most importantly, infused with the latest technology.
Rather than entering a bulky photo booth and receiving grainy photos, digital photo booths produce high-quality images that can instantly be shared with participants. A digital photo booth can also come with additional equipment, like ring lights, speakers, and touch surfaces that make the picture-taking experience that much more special while snapping pictures that are always social-media-worthy.
But perhaps the best part of a portable photo booth from a business perspective is the endless branding opportunities. Marketers can easily utilize logos, animated GIFs, and other custom graphics as overlays or backgrounds with a digital photo booth. Even the smallest details, such as fonts and hashtags, can also be branded for promotional purposes.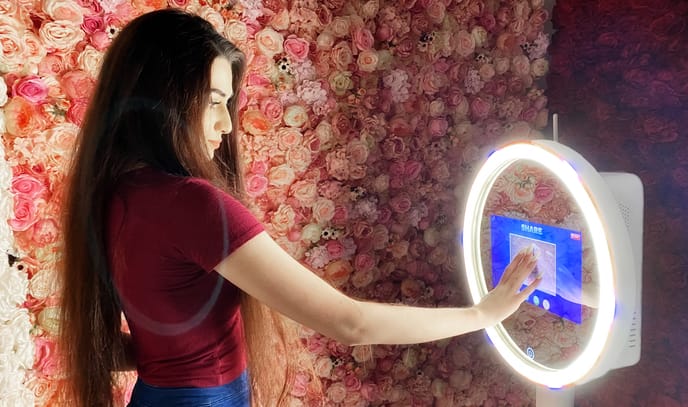 6 Ways to Utilize a Digital Photo Booth as a Brand
How can your brand use a digital photo booth to stand out from the competition? Here are some creative ideas to try:
1. Add Your Logo
Adding your logo to a digital photo booth is one of the best (and easiest) ways to increase brand awareness.
This can be as simple as making your logo an integral part of the photo booth background or making it a subtle watermark on the digital prints. The latter is recommended to ensure your logo isn't blocked by participants. A traditional photo booth doesn't offer the flexibility to do both of these options.
So, no matter if you make your logo stand out or blend into the digital photo, participants will always see it when they look back at their picture-perfect keepsake. This will naturally create a positive brand association at the very least, and at the most will prompt past participants to look up your business.
2. Create Custom GIFs
GIFs, or moving images that play on a quick loop, are constantly used in messaging forums. And they can also be used in a digital photo booth!
It's surprisingly easy to create your own GIF, just follow this simple tutorial from the New York Times. When you create a short video or an animated image you can add them to your digital photo booth in an overlay or as a sticker.
Moving images capture a participant's attention more than a static sticker. And custom GIFS are a chance to showcase your brand's personality through visual movement.
3. Include a Branded Hashtag
Hashtags are a staple in the social media age. Not only do they help to increase brand awareness, but they can also drive traffic to your website!
A branded hashtag can be more than just your company name. Get creative and think outside the box to make hashtags that match the voice and tone of your brand (and will capture the attention of selfie-takers). If you take your portable photo booth to different events, you may even consider changing up your branded hashtag to reflect the theme of the evening while still keeping things cohesive with your business.
Then, make sure to have the hashtag included in your digital photo booth. Again, this could be as a kind of watermark or an option for guests to post their picture on social media with the hashtag.
4. Create a Branded Overlay
Filters are a must for selfie-takers. And we're not talking about beauty filters, but rather fun overlays and unique presets that make their pictures stand out.
A branded overlay or filter is a great way to have fun with participants while still promoting your business. Think outside the box and utilize your brand colors or font to create a one-of-a-kind filter for guests to use. When they share their photos on social media, the eye-catching filter will be one of the first things people see.
With a digital photo booth, there's no limit when it comes to creating branded content that can easily be used by guests and tweaked for different purposes.
5. Share User Generated Content
What will you do with all the pictures participants take with your brand? Post them!
A digital photo booth provides your brand with a wealth of user-generated content (UGC) to use in your marketing efforts. USG is largely accepted as being more trustworthy among consumers compared to traditional advertising because brands aren't paying for the content.
So, make sure to share the branded content from the digital photo booths on your business's social media pages and more. Not only is this fun for participants, but it's great to show these candid positive interactions people have with your brand.
6. Offer an Incentive
While most people don't need an incentive to use a digital photo booth because it's a fun way to create lasting memories, offering them is another way to help your brand stand out. Consider giving a discount code to participants who use your digital photo booth. This can be as easy as adding a QR code to each image!
You can still experience increased ROI from social media shares, but offering more incentive is a great way to entice new customers to make a purchase after their first interaction with your brand.
Find a Digital Photo Booth For Sale
Ready to take your marketing efforts to the next level? It's never been easier to find modern digital photo booths for your business than with Photo Booth International.
Learn more about opportunities to purchase a digital photo booth for your business, including financing plans, by getting in touch with us today!