3 Month Check In With Jesus From ChecoPhotoBooths.com
Jesus Checo, owner of Checo Photo Booths purchased his booth April 2018. After much research, Jesus decided to look into the photo booth business to get him into the event industry. Jesus flew in from New Jersey to visit our showroom in Dallas, TX and after seeing the booths in person, he decided to purchase a Prime XL. 
Why did Jesus choose PBI? He chose us because of the support that we provide with PBI University. He knew he had the option to purchase a booth from NY or even NJ but he felt that they lacked the support that we were providing.
How has this business changed his life? He loves the fact that he can still work his full-time job and do the photo booth business on the weekends. He especially loves that he does not need a storefront for this type of business; less overhead costs, more in your pocket. Jesus recommends hiring your family and friends to help you get your business started so that you don't have to say no to business opportunities even when you're busy. He has hired his brother to help him with events and he appreciates the fact that it's brought him closer to his family. He also gets to have fun while working his events so it doesn't even feel like work to him.
How does he stand out from the competition? Although there are many photo booth companies in his area, he has found different ways to stand out to get his gigs. He suggests offering different backdrop options, showcasing the booth features so that guests know what they can expect. For his first event, Jesus had a launch party for which he was able to record some great footage of the booth being used. One of his friends was able to record and create the video (for free!). Thanks to that video, he has been able to book events as it is easy for curious customers to understand what they are getting.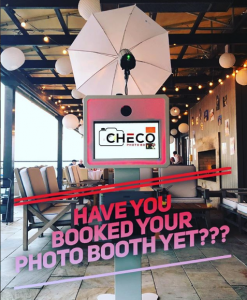 One of Jesus's tips is to stick to what you're good at, focus on your strengths while building up your business. For example, he knew he was not good at graphic work so instead of making his logo himself, he hired a graphic artist to create his logo. For that same reason, he had a friend record and edit his booth video. Jesus explained that he is more of the people person, which is great for being the face of the company.
Jesus thanked PBI for offering such great training resources. He especially loves the contract that we provide, he knows it saved him a lot of money. He shared that if it weren't for PBI's training, he would not have gotten this far this fast. For anybody that is thinking about starting their own photo booth business, he recommends that you do something you love. Jesus also raved about our PBI Private FB Group. He mentioned that all the members in the group help each other and it does resemble a family as they are all in the same business. Do something you love and enjoy so that it never feels like work.
If you are ready to get your business started today, give us a call at 855-474-6868.
Check out Checo Photo Booths Instagram Here  https://www.instagram.com/checophotobooths/
His website is https://www.checophotobooths.com/
Order My New Book Photo Booth Secrets Vol. 1 > FREE For A Limited Time – https://photoboothsecretsbook.com/