Market and Launch a Holiday Photo Booth for Company Parties with These 4 Concepts

The holidays are an amazing time of year to celebrate with family, friends, and co-workers. The potential for good vibes and memorable moments is simply astronomical
Maybe it's for that reason that companies are getting in on the fun with record holiday-themed company parties. A study by the HR Digest states that the average spending per employee on company parties in 2022 was $693.
And why not? Company parties are a great way for teams to bond, for camaraderie to grow, and for company management to show their employees that they are appreciated.
Why Market Your Holiday Photo Booth to Company Parties?
Certainly, in a post-pandemic world, company holiday parties are a great means of bringing people back together in a fun setting. Inc. notes that companies are exponentially increasing the number of holiday parties thrown when compared with the last few years.
With that in mind, what better way to help a company encourage a memorable and engaging holiday party than with a holiday photo booth? These strategically placed photo opportunities can help partygoers bond in a fun but responsible setting, and provide photo booth business owners the perfect opportunity for engaging new clients.
Holiday photo booths make a great investment for small business owners. Global Market Insights estimates the photo booth market will grow by 5% between 2023 and 2032. Certainly, that means a great opportunity for your holiday photo booth, as company holiday party demand is sure to expand.
Looking to expand your photo booth business and market to company party initiatives? Here are four simple holiday photo booth ideas to consider for your corporate customers:
1. The Classic
There's just something about sparkly tinsel that people love. A classically-designed photo booth is sure to be a hit with clients who want a classic holiday memory. Offering a winter wonderland backdrop with sparkling lights, for example, is a surefire way to attract folks who want to spark their holiday spirit.
The great thing about this concept is its broad appeal. With non-denominational tones, your holiday party photo booth can be provided for company events throughout the holiday season. Some ideas include:
General Holiday Party. Encapsulate Christmas, Hannukah, and more.
Q4 Closeout Party. Help your corporate customers celebrate their revenue at the end of the fourth fiscal quarter.
Annual Bonus Announcement Party. Let colleagues remember how their bosses made it rain at the end of the year.
With this concept, encourage company management to lead by example. You can help bosses loosen up for a photo opp and then invite entire teams for a pose. For small businesses, you can even set a stage large enough for a company-wide shot that can serve as a keepsake all year long. The possibilities are nearly endless.
This photo booth concept can even be tweaked for use well beyond the holidays. Really layer in the winter aesthetic and dial down the candy cane vibes for a photo booth concept that is usable throughout the dreary winter months. This way, you extend your holiday photo booth's runway with minimal cost to your business.
2. Ironic Memories
After grueling months of project deadlines, client demands, performance reviews, and more, employees are stressed. Sometimes, teams just want to let out steam, laugh and reminisce at the end of the year. Let your holiday party photo booth be an oasis for stress with a less-than-serious theme.
Ugly sweater parties are all the rage, so why not capitalize on the scratchy, hideous fun? This photo booth for a holiday party is sure to be a hit. It can give partygoers the chance for a memorable pic for their Instagram feed.
Offer up a design-your-own-ugly-sweater station to let your holiday season photo booth visitors show their creative side. Or offer pre-designed Christmas photo booth props for users to choose from. Just remember: the uglier the better.
You can also lean your holiday photo booth concept into something your client already has planned, like a chili cookoff, a bowling party, a casino night, or other event. You can design your holiday photo booth to match. The key here is finding aesthetics that really push the concept as far as it will go so teammates know they have permission to laugh at themselves a bit.
In each of these cases, you stand to offer partygoers a keepsake for a theme they're sure to remember. And you let them unbutton their top buttons, so to speak. That's certainly a holiday party photo booth that goes beyond the generic!
3. Countdown to Midnight
Help your corporate clients cap off a great year of business with a New Year's Eve-themed holiday party photo booth. Design your booth as a celebration of the year to come with prominent year markers. Or say "out with the old; in with the new" by designing your booth with a "good riddance" theme.
Whatever concept you choose, be sure to align it with the themes of hope and optimism. Companies want their holiday parties to bring uplifting vibes and a sense of celebration. Make your holiday photo booth a beacon for good things to come.
The cool thing about this photo booth for a holiday party concept is it can, with a few tweaks, be repurposed for other cultural New Year celebrations. This includes Rosh Hashanah and the Lunar New Year. If you have corporate clients who want to get on board with cultural diversity and representation, your holiday photo booth can be just what they need to throw an off-season holiday party!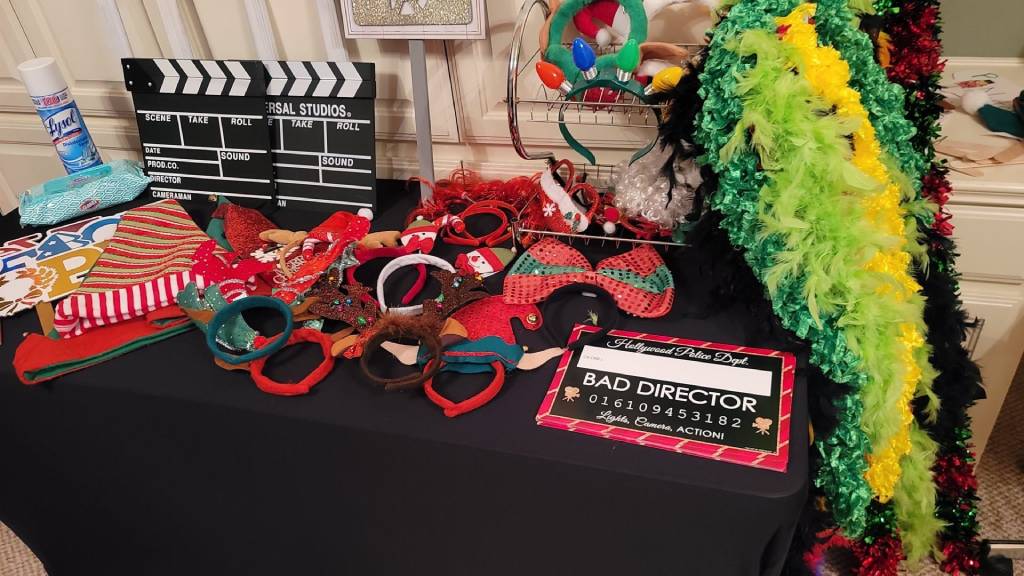 4. Content for Your Clients' Use
While most company holiday parties are a private affair, companies are increasingly promoting their camaraderie and culture for hiring, client pitches, and more. After all, there's no reason the content captured in your holiday photo booth can't be used for public-facing content.
Help your holiday photo booth customers capture content that shows who they truly are with moments that are truly unique and memorable. This could include:
Fun photos of team bonding for the company website
Video content showcasing genuine team fun
With this kind of holiday photo booth, you not only add fun memories to a company party. You also give them the gift of content that can help grow their business even more.
Launch a Holiday Photo Booth to Remember
The holiday season is ripe for easy holiday photo booth ideas. And really, there are countless other easy holiday photo booth ideas we haven't listed to engage your clients. At this time of year, folks want to be dazzled by a photo opp that is whimsical and well thought through.
The only downside to running a photo booth is you need to continuously generate great ideas that dazzle your customers. But that's where a photo booth specialist like Photo Booth Int. can help.
Photo Booth Int. has worked with many small business owners just like you to launch the photo booth business of their dreams. And this includes countless holiday season photo booth concepts.
Ready to get started on your holiday photo booth? Learn more about Photo Booth Int today.