13 Wedding Photo Booth Props that Guests Will Love

Wedding photo booth props can take a wedding reception to the next level. The right props can help wedding guests let loose, entice them to take pictures, and make the big day all the more fun.
But with so many wedding photo booth props out there, how do you know what's best? While it ultimately comes down to your theme, budget, and personal preferences, this list can be a great place to start.
Here are some of our favorite props for a wedding photo booth that can help make the experience more memorable for guests and ensure your photos pop.
1. Personalized Prop Signs
You can't go wrong with personalized photo booth signs for your wedding. You can find plenty of prop signs that can match the theme of your wedding or be personalized with funny sayings. When choosing these photo booth props for a wedding, make sure they're crafted from high-quality materials that are durable.
2. Photo Frame
This fun prop can make your photo booth photos pop. A Polaroid-style frame can be held up by guests as they strike a pose and use other unique props. What makes this wedding photo booth prop special is that it can be customized to your needs.
Emblazon your photo frame with a favorite saying, your wedding date, or your wedding hashtag for a personalized touch.
3. Faux Florals
What's more romantic than florals? From a stunning flower wall to whimsical oversized florals, these wedding photo booth props bring a touch of romance to your photo booth. Guests will have fun playing with faux florals and props like flower crowns to take pictures.
These props are perfect for a spring wedding, showing your love of flowers, or as an extension of your wedding decor.
4. Face Cut-Outs
These funny wedding photo booth props are sure to be a hit with your family and friends. WeddingWire points out that creating big heads of the bride and groom is sure to be a wacky addition to your photo booth wedding props.
Keep an eye out for these face cutouts making their way to the dance floor.
5. Chalkboard Signs
Guests will love the chance to personalize these wedding photo booth props. Chalkboard prop signs are a great interactive element to add to the photo booth. Your wedding guests can write cute (or funny) messages, share inside jokes, and truly make these photo booth props their own. It's easy to wipe them down between uses so every guest can leave their own message.
6. Costumes
Capes and tutus and hats, oh my! Costumes make for great photo booth props for a wedding. People will have a blast dressing up for the camera, especially when it's a Mirror Photo Booth that can capture head-to-toe pictures.
7. Confetti
Don't be afraid to get messy with your wedding photo booth props. After all, it's all contained in one area and can really make your photo booth pictures pop. Confetti makes for an eye-catching photo booth prop, especially if you have a photo booth that can capture Gifs.
Brides recommend using confetti that matches the color scheme of the wedding or letting guests create their own combination of colorful confetti for a personalized touch.
8. Beautiful Boas
There's nothing more fun than playing with brightly colored boas. Feather boas make for great wedding photo booth props because they add great pops of color and movement for Gifs. You can also lean into the roaring 20s feel by pairing these props with feather hats, mustaches, and more.
9. Balloons
Love is in the air with these props for a wedding photo booth. Balloons not only make for a dynamic background for your photo booth but also double as props. Choose balloons that match your wedding decor or have romantic sayings. Or, opt for giant foil letter balloons that can spell out your wedding hashtag or other fun sayings.
10. Disco Balls
These wedding photo booth props will have your guests running to the dance floor after they take their pictures. Glittering disco balls make for eye-catching props and can be used in a variety of different ways. If you love all things disco and glitter, consider using different-sized mirrored disco balls for your guests to pose with or use as a backdrop.
11. Astrology Love
If you feel like your love was written in the stars, astrology-themed wedding photo booth props can be a sweet touch to your reception. Add a sparkling moon and prop stars for your guests to hold up in their photos.
12. Pet Cut Outs
Want to include your pets on your big day? These funny wedding photo booth props are a great way to incorporate your furry family members even if they can't be at the venue. Your guests can hold up cutouts of your pets in their pictures. Make sure to start taking funny pictures of your pets now to prepare!
13. Hashtags Galore
Don't let your wedding hashtag take a back seat. You can find plenty of wedding photo booth props that incorporate your personal wedding hashtag or other fun hashtags guests can use in pictures. From personalized backdrops to hand-held signs and neon lights, there are many ways to incorporate your hashtag into your photo booth and make it easy to find pictures shared on social media.
Best Wedding Photo Booths
With these unique and funny wedding photo booth props in mind, you're on your way to creating a memorable experience for guests at a reception. And don't forget to also choose the best photo booth for the big day.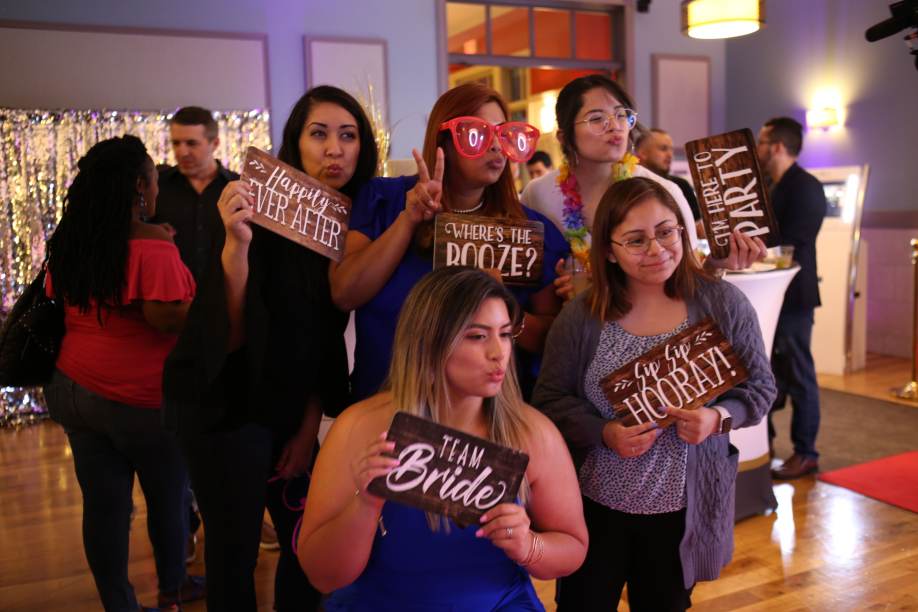 If you run a photo booth business and want to hit the wedding scene, you can't go wrong with the Mobile Photo Booth. As one of the most advanced and easily portable photo booths ever built, it will prove to be an instant hit in your next event, no matter where it is.
Check out our photo booths today!