Top 5 Photo Booth Business Opportunities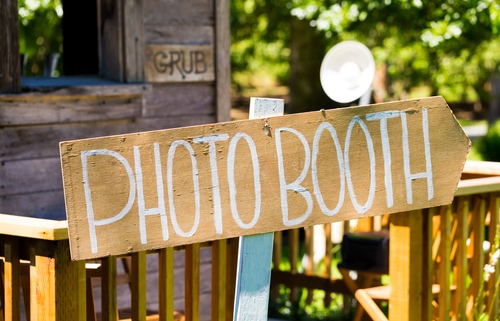 Opening a photo booth (or renting one) in a busy city street is one of the most attractive ways to earn money as a side hustle or a full-time business. Even in the age of smartphones, professional photography is not dead. 
In fact, it's booming! Research suggests that photo booth business owners can earn as much as 75% profit margin – now that's impressive! Prints out have a tangible and sentimental value attached to them, something that's missing from their digital versions.
In the next section, we have identified cool opportunities for your photo booth business. 
Photo Booth Business Opportunities
Here are the top 5 photo booth business opportunities you can explore:
Our favorite of all! This is one of the most special days in every person's life. You can make their day perfect by creating a memorable experience for all.
They run a bit longer compared to social events. If you can offer a customized branding experience, you can expect recurring business from corporate clients.
It's a time worth cherishing for years to come. You can offer a baby-boy-themed or baby-girl-themed photoshoot experience for expecting mothers and their families. This opportunity is something you can expect all year long.
This photo booth business opportunity is more about seasonal events and special holidays like Christmas, New Year's, etc. During these times of the year, you can offer a holiday-themed experience for your visitors. It's an incredible revenue booster for your business.
Like weddings, birthday parties are great photo booth business opportunities since you will have no dearth of events all year long.
Categorized under social events, you can make graduation parties a memorable experience for students out there.
How Much Money Can You Make?
The photo booth business is fun for many reasons. You can bring a lot of positive energy and excitement to events. It's a fun environment to work in. This is why many people have shifted from a desk job to a photo booth business or run it as a side hustle.
Now the question arises – how much can you earn with photo booth business opportunities?
Let's have a look:
Social Events 
These include graduations, holiday parties, and birthday parties. The charges for social events can typically be anywhere between $500-$1000 per event. You can also charge by the hour which is generally $250-$250 per hour. 
Corporate Events
These have higher hourly rates compared to social events, typically $350-$450 per hour. Here, you have the opportunity to work with the same clients on a regular basis.
The more customized the experience is (green screens, branded photos, and other unique elements), the more you can charge. 
Resources
We suggest reading the Photo Booth Business Plan for more details.
There's a lot of wisdom available out there that you can soak in without spending a dime. 
You can also join Facebook Groups such as Photo Booth Community and Photo Booth Network to learn the business and possibly find more opportunities online.
Explore more about our photo booth business opportunities! 
We offer photo booth services for both corporate and social events.